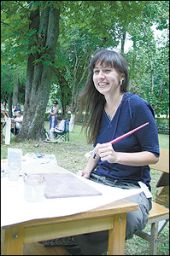 She was born in 1972 at Siauliai, Lithuania.
1990 – Graduated from the Vilnius M.K. Ciurlionis Art School;
1995 – Graduated from the Vilnius Academy of Fine Arts (ceramics).
Since 1993 till now she took part in 137 group shows and had 48 solos exhibitions in Lithuania, USA, Latvia, Denmark, Ireland, Italy, Romania, Germany, Slovenia, Andorra, Spain, France, Portugal, Greece, Egypt, Japan, Bulgaria and Swiss.
Since 2000 – participates in international Competitions, Symposiums, Art Camps, Seminars and Conferences.
Since 2003 she lectures, organizer and coordinator of art education seminars for educators.
Since 1999, member of the Lithuanian Artists' Association.
Since 2010, member of North Greece Artists Association.
2002 – Diploma, Vilnius Municipality Culture, Education and Sport Department.
2004 – Honorable letter, The Republic of Lithuania Ministry of Education and Science.
2005 – Granted the Status of an Art Creator by the Ministry of Culture of the Republic of Lithuania.
2007 – Diploma, Romania UNESCO commission and Calimanesti Municipality for "Creativity participation in the International Art Camp Vlaicu Ionescu".
2009 – Special Award for High Level of Creativity and Humor, XXV International Biennial "Humor in Art", Tolentino, Italy.
Solo Exhibitions (Most important)
1994-2004-2009 Gallery "Laiptai" Siauliai, Lithuania (painting,sculpture,ceramics)
2001-2004-2009-2011 Lithuanian national UNESCO commission art hall, Vilnius
(Painting, sculpture)
1998-2000-2002 Gallery Arka, Vilnius, (painting, ceramics)
2004 Latvian Architects House, Riga (painting)
2006 Vilnius Town Hall (painting, sculpture)
2008 General Consulate of the Republic of Lithuania, New York, USA (painting)
2011 Gallery Vlassis Art, Thessaloniki,Greece
2011 Gallery Paris, Sofia,Bulgaria
2012 Gallery Anixis ,Baden-Zurich,Swiss
Group Exhibitions (Most important)
1996 Contemporary Art Centre "Applied Art 96", Vilnius, Lithuania
2001 Herning Museum, International miniature exhibition, Denmark
2004 "Crafting the Future Lithuanian Applied Arts" Kilkenny, Ireland
2005-2007-2009-2011 Lithuanian National Art Museum, Vilnius
2005 Rancia Castle, 23rd biennial-"Humor in Art", Tolentino, Italy
2008-2009-2010-2011-2012 Ceramics Museum, Kaunas, Lithuania
2009 UNESCO commission Art Hall, Paris, France, international Art Camp
"Colors of Planet"
2011 Opening of the permanent collection of Kavafis Museum-Alexandria-Egypt
There are a lot of publications in press. Many works are in private and museums collections in Lithuania and abroad.