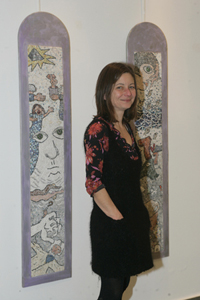 She was born in Athens. She has studied graphic design at VACALO,marble sculpture at School of Fine Arts of Tinos, mosaic with Nikolaos Tolis, etc.
Cooperation with the magazine SIMA (illustration), the sculptor Nikos Georgiou (mosaic on marble), galleries, shops.
Group exhibitions
Ashinart (2003)
Aigokeros(2004)
Orizontas(2005-2010)
Solo exhibition
Chili Art Gallery 2011
Owns labs in Athens and Kea.