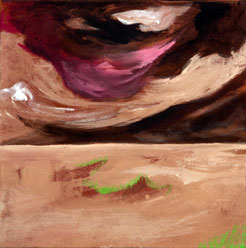 Erika Douralis was born in Athens (1966) and grew up in Paris. She attended drawing lessons at the atelier Clouet. She studied at the E.S.A.T (School of Stage Designing) and the E.N.S.B.A (School of Fine Arts) with the professors Pierre Caron and Vladimir Velickovic.
She was sculptor's Jason Molfessis assistant and has worked at cinema and advertising with Delfine Desfond.
She has been granted scholarships from institute de France, the American School and has been awarded at Salon '91, Grand Palais Paris.
She has been mentioned at E.Petropoulos' book "Four painters" editions Nepheli, and "Greek Painters' Encyclopedia" editions Melissa.
From 1991 to 2004 she was participated in many exhibitions, among which "Foregrounds and distances" Serpenti gallery Rome 1992,
"Tigra" Raventos y Blanc Barcelona 1994,
"Presentation of the awarded students of the School of Fine arts" Museum of Fine Arts, Paris 1995,
"2000 mini formats for the year 2000" Lefor Openo gallery Paris,
"2000 tins" Piraeus lithography industry Athens 2000,
"Marathon Run" Yiayiannos Titanium gallery Athens 2004.
She has also realized five personal exhibitions "Premiers detournements de lieux" at Crouse gallery 1993, at the American Art School Fontainebleau 1996, "Space Seductions" at the Athens Art Gallery 2001, "Space-Man-Motion" Greek Embassy in Brussels 2004, and in North Atlantic Treatment Organization in April 2005.
In October of the same year she realized a solo exhibition in the "Old Archeological museum" in Thessaloniki and at P37 art gallery in 2007.
Lives and works in France and Greece.