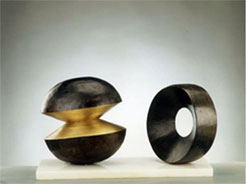 Through the ages painting or sculpture have dealt with the current ideas and reflected a part of the world. A world of ideas, knowledge, aesthetics and emotions. Art is connected to them all. Through art you can comprehend nature, politics, philosophy and love. What i find fascinating in art is to feel her presence in everyday life.
As a sculptor for I'm inspired by the power of nature in the microworld and in the universe. I am also trying to deal with the idea of transformation and continuation in nature. I' m trying to express these ideas  through my work
in a comprehensive and plain manner.
I wouldn't like to impose my way of thinking on the viewers but let them
judge my work in their own way.
According to my point of view,
every painting or sculpture is an intervention in everyday life which gives every human being the opportunity to to reflect on life.
Dimitris Fortsas was born in 1957 at Ellinochori, Didimotichon.
He studied painting with Thodoros Pantos and Spiros Koukoulomatis. He participated in group SYN from 1980 to 1987. He is a member of Ε.Ε.Τ.Ε.
Personal Exhibitions
2007, Π.37 Art Gallery
2000, Zakynthos Art Gallery
1994, Kalamata Municipal Cultural Center
1993, Titanium Gallery, Athens
1991, Gallery 4, Volos
1988, Kreonidis Gallery, Athens
1984, SYN Hall, Athens
1982, SYN Hall, Athens
Group Exhibitions (selectively)
2005, «Dialogues», Π.37 Art Gallery, Athens
2004, «Searching for the Olympic Idea», Athens Municipal Gallery
2003, «Art Roads 2003», Metaksourgeio Cultural Center, N. Ionia Magnesia
1997, «Color: light poetry», Cyclades Art Gallery, Ermoupoli
1997, «Colour: light poetry», Athens Municipal Center
1997, «Oikotopia IX», Gazi, Athens
1997, «Contemporary Thracian Painters», Stoa bibliou Athens
1994, «Aegean-Cyprus», Cyclades Art Gallery, Ermoupoli
1993, «New acquisition of Municipal Art Gallery», Athens Municipal Gallery
1992, «For N. Perantinos Museum», Paros
1992, «25 Painters exhibit», Bouliagmeni Municipality
1990, «Pornographies?», Dada Gallery, Athens
1988, «Group painting», Athens Municipal Art Center
1987, «Musical Athens», Athens Municipal Art Center
1987, «Pan-Hellenic Art Exhibition», ΟΛΠ Peiraias
1987, «Athens Visual Arts», Athens Municipal Art Center WORKS IN PUBLIC PLACES2004, Sculpture in Attiki Station, Athens
2004, Sculpture in N. Ionia, Park Volos
2001, Sculpture in Prilep, FYROM (Sculpture Symposium)
1997, Decorative Painting of Apollo Theater, Ermoupoli
Awars – Distinctions
2003, 1st award for Sculpture at Attiki Station, Athens
1988, 1st award for fresco model by the Municipality of Athens
Other Activities Related To Visual Arts
1991, Stage Setting for N. Brettakos play «Liturgy Under Acropolis»
1987, Study for the decorative painting of Apollo Theater, Ermoupoli